Wordplay's big splash at Sundance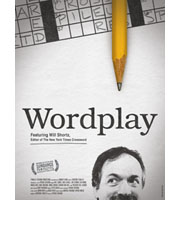 A couple of months ago we were pleased to bring you the news that Patrick Creadon's documentary Wordplay had been accepted into competition at the 2006 Sundance Film Festival. Creadon's film focuses on New York Times crossword guru Will Shortz and his cultish followers, as well as providing a glimpse into the world of competitive cruciverbalism. Now it's Sundance time, and the buzz from Park City is quite promising.
As I suspected, noted crossword nut Bill Clinton is among the celebrities to make an appearance in Wordplay. The AP reports that other "self-professed word nerds" appearing in the film are "Daily Show" host Jon Stewart, folk-rock duo The Indigo Girls, and brainy New York Yankees pitcher Mike Mussina. (Stewart sounds reliably manic: he can be seen "assaulting the Times crossword, shouting 'Come on, Shortz! Bring it!'")
But the film's real excitement derives not from celebrity cameos but from its depiction of the American Crossword Puzzle Tournament, which Shortz directs. According to the AP, "Sundance crowds were so caught up in the film's footage of last year's crossword tournament that viewers groaned over a bitter agony-of-defeat moment in the dramatic finale."
Prospects for a distribution deal are looking good. An article on indieWIRE says that representatives from four independent distributors (Picturehouse, Warner Independent, Fox Searchlight and Roadside Attractions) expressed interest at a Sunday brunch with the filmmakers. Though no deal has been announced yet, it's looking more and more likely that Wordplay will be coming to an art house (or at least a video store) near you.
(For first-hand accounts of the Sundance excitement, be sure to follow the blogs of crossword champs Ellen Ripstein and Trip Payne, as well as Diary of a Crossword Fiend.) [Update: Tyler Hinman and Stella Daily are also blogging from Sundance.]
[Update, 1/25: IFC has acquired the distribution rights to Wordplay for $1 million (indieWIRE, Hollywood Reporter).]
[Update, 1/27: The website for the Sundance Channel has an interview with Shortz and Creadon, with clips from the movie. (Via Diary of a Crossword Fiend.)]
Posted by Benjamin Zimmer at January 23, 2006 10:55 PM