An Eats, Shoots & Leaves moment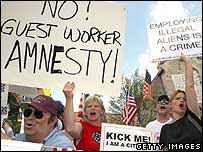 Lane Greene sent in another example where final punctuation has apparently been copied into the body of a phrase in order to indicate emphasis, as in Best. Day. Ever. This time, though, the meaning is inverted:
NO GUEST WORKER AMNESTY!
becomes
NO! GUEST WORKER AMNESTY!
Posted by Mark Liberman at April 22, 2006 06:29 AM