I missed it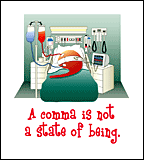 A striking example of synchronicity -- September 24th was National Punctuation Day.
Roger Shuy pointed out that the NPD web site includes the punctuation of the expression, "do's and do'nts."
And David Beaver theorized that this is to avoid any potential for confusion of "does 'n don'ts" with "dozen donuts."
Posted by Mark Liberman at September 27, 2006 08:52 AM