The Mooninites have landed!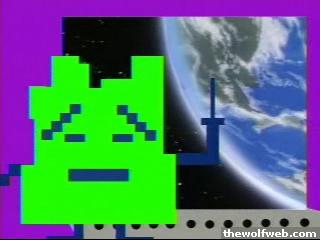 Greetings from the Youth and Popular Culture (YPC) desk, which as of yesterday has merged with the Homeland Security (HS) desk here at Language Log Plaza. (That's YPC-HS now, for those keeping score at home.) The merger was occasioned by the flap reported here (and various other places) concerning an unfortunate ad campaign for Aqua Teen Hunger Force (#1 in the 'hood, G) in 10 cities around the country. In Boston, where the ad campaign had reportedly been in place for three weeks, "[o]fficials found a slew of blinking electronic signs adorning bridges and other high-profile spots across the city Wednesday, prompting the closing of a highway and part of the Charles River and the deployment of bomb squads." Turner Broadcasting, the parent company of the Cartoon Network on which ATHF airs, had this to say:
"We apologize to the citizens of Boston that part of a marketing campaign was mistaken for a public danger," said Phil Kent, chairman of Turner, a division of Time Warner Inc.
Language Log readers will recognize this as a non-apology. (If you need us to jog your memory, see here, here, and here.)
More from the AP wire:
The 38 signs were part of a promotion for the Cartoon Network TV show ''Aqua Teen Hunger Force,'' a surreal series about a talking milkshake, a box of fries and a meatball. The network's parent is Turner Broadcasting Systems Inc. [...]

The 1-foot tall signs, which were lit up at night, resembled a circuit board, with protruding wires and batteries. Most depicted a boxy, cartoon character giving passersby the finger -- a more obvious sight when darkness fell.
That description can only mean one thing: the Mooninites have landed!
[ Comments? ]
Posted by Eric Bakovic at February 1, 2007 12:14 PM