Pullum with Drinks, 5/12/2007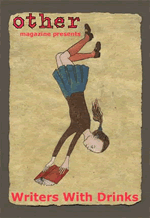 If you can get to San Francisco this weekend, you won't want to miss Geoff Pullum at Writers With Drinks. According to the notice sent out by Charlie Anders, the founder and ringmaster of the event,
It's been scientifically proven that most people have around FIVE (± 3.2225) life-changing experiences in the course of their lives. It can be a drag knowing you've only had one or two of these experiences so far, and wondering how soon you'll have to rearrange your dog-hair lamp collection after the next one. Which is why next Saturday's Writers With Drinks will provide you with ALL of the life-changing experiences you will have for the rest of your life. Yes, this will be a scream-eating, knuckle-popping ride. But at the end of it, you can be sure your life will never change again. Stability is joy!

When: Saturday, May 12, 2007, 7:30 to 9:30 PM, doors open at 7:00 PM
Featuring: Jami Attenberg, Jaime Cortez, Geoffrey Pullum, Liz Maverick & Stephanie Paul
Where: The Make Out Room, 3225 22nd. St. between Mission and Valencia, San Francisco
How much: $3 to $5 sliding scale, all proceeds go to other magazine.
Rumor has it that Geoff will perform some rants about The Number of Words for X in Y -- featuring the Moken, the Chulym, the Eskimos, and the Arabs -- while riding a unicyle and juggling a selection of live seafood.
What about Saturday's other writers? Well, according to Charlie's descriptions, Geoff will be adding the note of light and racy linguistics that a savvy organizer of tavern-based readings is always looking for, to balance an evening of material that otherwise might be too solemn and cerebral in character:
Jami Attenberg is the author of Instant Love and the forthcoming novel The Kept Man. Her writing has appeared in Salon, Nerve, Pindeldyboz, Spork, Print, Nylon, Radar, the SF Chronicle, Time Out NY and others.

Jaime Cortez edited the anthology Virgins, Guerillas & Locas and edited Corpus magazine and the zine A La Brava. He's been published in Best Gay Asian Erotica, 2SexE, Queer PAPI Porn and Besame Mucho. He co-founded the comedy group Latin Hustle. He illustrated the graphic novel Sexile/Sexilo.

Stephanie Paul has performed at The Comedy Store in LA, the Comedy Club in San Francisco and Improv Hollywood. She appeared on TV in both Hercules and Xena: Warrior Princess, and in the movies Crazy Love, Film School Confidential and The Frequency of Claire.

Liz Maverick's action-romance novels include What A Girl Wants, The Shadow Runners, Crimson Rogue and Crimson City. Her newest book, Wired, launches the Shomi line for Dorchester Publishing. Her story "Kiss or Kill" appeared in Secrets 8: The Best In Women's Sensual Fiction.
This will also be your opportunity to get Geoff to autograph Far from the Madding Gerund. If you leave your copy behind, in your rush to get to the reading on time, there will be probably be spares on hand.
Posted by Mark Liberman at May 9, 2007 10:05 AM