Linguist macros?
I'm concerned about our field's lack of involvement in the dominant intellectual currents of our time. How are we going to get the public to see the value of linguistics if we don't engage the issues that concern our youth? I mean, there are lolbrarians, lawyer macros, physics cats, Shakespearean lolcats, and straight-up lolShakespeare. Where are the linguists?
It's not like we don't have good raw material in the form of aw+-inspiring linguists:
Or:
And anyone with access to a supply of kitten-photos, and a linguistics course or two under their belt, ought to be able to come up with uncomputably many linguistics-oriented substitution-instances of "I'm in ur X, Y-ing ur Zs"; or "Invisible X", or "I can has Y?"; or maybe "Z: No Want".
Think of the depth this would add to discussions on Linguist List or ADS-L.
[Update -- Amy Forsyth draws our attention to yesterday's Bunny at Frozen Reality: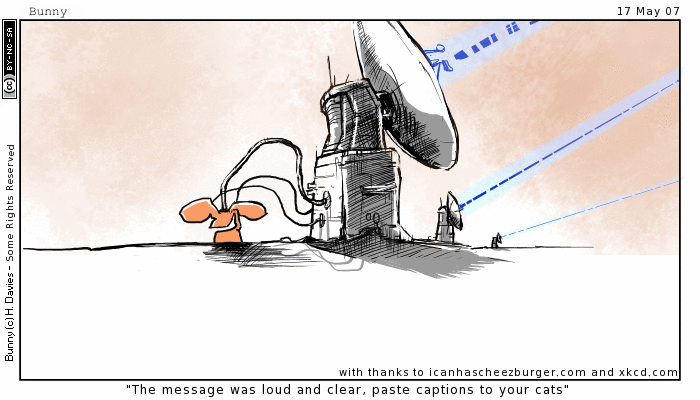 ]
[Update #2 -- Amy "mhwombat" de Buitléir writes:
As an enthusiastic student of the Irish language, I know that minority languages risk being consigned to the periphery of history unless young people take up the torch. I fear that our youth may abandon a language that has no accomodation for lolcats. We cannot afford to be complacent. To support this noble cause, I hereby present what I believe to be the first ever cat lolling "as Gaeilge", featuring my own beloved Porpentine. The caption rougly translates to "I likes alpaca flavr".

As far as I know, An Coiste Téarmaíochta, the organisation responsible for coining new terms in Irish, has not recommended a translation for "lolcat". To address this shortcoming, a group of us are debating the issue on an online forum. The Irish word for "cat" is "cat" (plural "cait"), and the standard net abbreviation for "lol" is "agoa" (ag gáire ós ard = laughing out loud), so "catagoa" (plural "catagoacha") seems an obvious choice. However, "lolcat" (plural "lolcait") also has support.

Finally, research is needed into the nature of kitty pidgin in Irish. Do cats make "TSF errors", confusing the substantitve verb with the copula? Do they lenite when they should eclipse, and vice versa? And what about dialects? My own cat, who has a Donegal accent, says "wee-ooh" for "meow". Perhaps Munster cats say "mee-ukh". Surely any linguist would find this a rewarding area of study.

Anyone who wishes to know more about catagoacha is welcome to read and participate in our discussion here.

Le meas,
Amy "mhwombat" de Buitléir
And under the OT heading "non-lol cat", John Cowan writes:
This morning it was "I'm in ur dry-clean-only clothes, pissing on ur shirts and pants." So off to the laundromat with me to wash them, then hang them up to dry, and only on Monday or so take them to the dry cleaner's.
(That's "off topic" rather than "optimality theory", which this event apparently was not, in his view.)]
[Update #3 -- Laurel MacKenzie writes:
A little embarrassed to admit this, but as soon as my friend Jacqueline Palmer (a fellow Berkeley undergrad linguistics alum) and I discovered I Can Has Cheezburger last month, we knew we had to extend it to the linguistics domain. Here are some captions to get you started, though how you could pair some of these up with cat pictures is beyond me...

I'M IN UR TREE C-COMMANDIN UR ANAFOR

WTF INVISIBLE CONSONANT?!?1

I'M IN UR SOUND FILE MESSIN WIT UR PISH TRACKUR

I'M IN UR PROTO-LANGUAGE RECONSTRUCTIN UR PHONEMEZ

I CAN HAS [+ROUNDS]??

I'M IN UR TIER LINKIN TO UR AUTOSEGMNT

UR DERIVATION FAILEDED LOL

I'M IN UR TABLEAU OUTRANKIN UR CONSTRAINT

I'M IN UR AFFIX HARMONIZING WIT UR VOWELS

Ø --> I / ___ UR REWRITE RULE
Very nice. I should have known that It would be Out There: they're in our culture, replicating our memes. ]
[Update #4 -- Deiniol Jones sent in this one:
And Karolina Owczarzak sent in the first of these -- the second one is entered on behalf of Pinker and Jackendoff:
]
Posted by Mark Liberman at May 18, 2007 07:41 AM