The Cupertino effect strikes again
On the American Dialect Society mailing list, Joel Berson recently noted this perplexing item from the police log of the Arlington (Mass.) Advocate (Sep. 28, 2006):
At 3:38 p.m., police responded to Wellington Street about youths shooting paintballs from a home. Police denitrified the youths and seized the paintball guns. Police are investigating.
Joel wondered if the "denitrifying" of the youths might be a chemical decontamination process, while other list members speculated that it could have something to do with a skin test to determine whose hands had fired the guns, or perhaps the forced removal of the paintballers' tanks of compressed gas (nitrogen or carbon dioxide, both slangily referred to as "nitro"). Despite these creative conjectures, this seems to be a pretty clear case of spellchecker interference (a possibility Joel had also considered), where identified was originally misspelled as dentified and then "corrected" by a spellcheck program to denitrified. In other words, it's the pernicious Cupertino effect again (so called by European Union writers who noticed that co-operation was turning up as Cupertino in EU documents).
When I entered dentified into MS Word 2000 and ran the spellcheck, I got three suggestions: identified, dandified, and denitrified. So the custom dictionary for Word 2000 ranks denitrified third, but I figured other custom dictionaries might rank it as the top alternative. And sure enough, when I tried the same test on a machine with MS Word 97, I got only one suggestion: denitrified.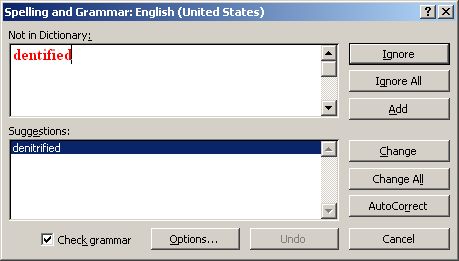 So some time between the releases of Word 97 and Word 2000, the Microsoft spellcheck gurus improved their algorithms and identified identified as the most likely word mistyped as dentified. But the denitrified suggestion, either from old versions of MS Word or some other word processing programs, lingers on in the text of various websites:

Not every song on Wippit is available at no extra cost to subscribers, but many are discounted to subscribers and can be denitrified by one of these little green S's. (Wippit FAQ)

This site provides information that Federal Preservation Officers denitrified as necessary for carrying out their legal responsibilities. (Native American Consulation, Federal Highway Administration)

Perfect new install of windows all devices detected except card which is denitrified as VGA compatible as usual giving usual quality screen in all resolutions despite no monitor showing in device manager or a "specific" card. (Motherboardpoint forum)

No one could have gone from among us who would be missed more than will George F. Bates who has been denitrified with all the interests of Allen for years. (Allen Cemetery, Lyon Co., Kansas, mistranscribed article from Northern Lyon County Journal, May 20, 1904)
And here's a case where identified was apparently misspelled as <i dentified> and then transformed into <in denitrified>:
Recognizing the mutual benefit of cooperation in promoting the development of the West Bank, the Gaza Strip and Israel, upon the entry into force of this Declaration of Principles, an Israeli-Palestinian Economic Cooperation Committee will be established in order to develop and implement in a cooperative manner the programs in denitrified in the protocols attached as Annex III and Annex Iv. (Palestinian Declaration of Principles on Interim Self-Government Authority, Sep. 13, 1993)
By the way, in my original post on the Cupertino effect, I wrote:
One EU writer claims that the Cupertino change can even happen to the word cooperation if the word processor's custom dictionary only has the hyphenated form co-operation. However, I find it difficult to believe that many custom dictionaries out there include Cupertino but not unhyphenated cooperation.
I shouldn't have been so incredulous. Even though none of the custom dictionaries I've tried produce the desired result, helpful reader "Huw" emailed a screenshot of an errant spellchecker in action, from an old version of Outlook Express (custom dictionary copyrighted as "Houghton Mifflin Company © 1996 Inso Corporation"):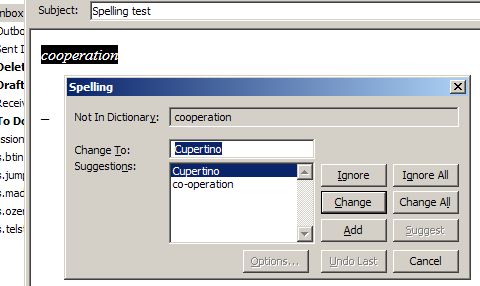 [Update, 10/3/06: The Natural Language Team for Microsoft Office owns up to the denitrified slipup on the team's new blog.]
Posted by Benjamin Zimmer at October 2, 2006 01:45 PM