Flacks and hacks and brainscans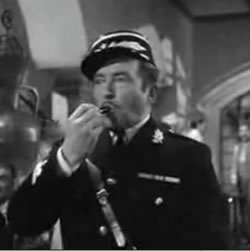 On November 11, the New York Times published an unusually scientific Op-Ed piece (Marco Iacoboni et al., "This is Your Brain on Politics"), accompanied by an impressive multimedia slide show of fMRI brain scans. On November 14, the NYT published an extraordinary letter, signed by 17 eminent neuroscientists, which asserts that the Iacoboni Op-Ed "uses flawed reasoning to draw unfounded conclusions" (Adam Aron et al., "Politics and the brain"). An extraordinary editorial yesterday in Nature ("Mind games: How not to mix politics and science") delivers an additional stiff rebuke to the NYT editorial board:
The results described in the op-ed are apparently the claims of a commercial product posing as a scientific study. [...]

Articles on The New York Times op-ed pages are opinionated by definition, and shouldn't normally require peer review. But here, the paper's editors have instead published the results of (to put it mildly) questionable scientific research, disseminating this information to millions of their readers who may not have the background to recognize for themselves the absurdity of some of the authors' conclusions.

Although it is a gross disservice to science and indeed to politics, it is a great deal for the company. Scientific publication would have required the authors to divulge their data and qualify their assumptions — and some journals might even have required that they declare their financial interests. Whatever the motives, seducing The New York Times' editors with the allure of Technicolor brains lighting up with Hillary Clinton angst yielded no more or less than a multimedia advertisement for the company's product to millions of readers.
The basis of Nature's complaint is that the "research" behind the 11/11 NYT Op-Ed came from FKF Applied Research Inc. ("The Leader in NeuroMarketing"), and was scientifically questionable (though it's hard to tell how bad it is, since none of the details were published), and was clearly intended to promote FKF's commercial services.
While I share Nature's outrage, I feel that the moral tone of the editorial comes uncomfortably close to Captain Renault's famous line "I'm shocked, shocked to find that gambling is going on here!"
The NYT's provision of free advertising to FKF follows a pattern that's much commoner than this extraordinary Nature editorial might lead you to think. We've documented many examples here over the years, where the science is even more obviously absurd, and the commercial motivation even plainer. For example: "Enhance breast size by 80%", "It's always silly season in the (BBC) science section", "The brave new world of computational neurolinguistics", "Another day, another reprinted press release", "Quit email, get smarter?". And there are many other examples every week of the year -- see the archives of Ben Goldacre's Bad Science for a larger sample.
Some of the examples are subtler, and some are even more blatant. But they all have the same source: the hidden symbiotic relationship between flacks and hacks. This relationship was discussed a couple of weeks ago, in passing, as a result of a public tantrum by a magazine editor who was annoyed by getting too many emails from publicists (Andrew Adam Newman, "Things Turn Ugly in the 'Hacks vs. Flacks' War", NYT, 11/5/2007):
Journalists often call publicists "flacks" and publicists call journalists "hacks," though rarely in earshot of one another. But the gloves came off last week after Chris Anderson, the executive editor of Wired magazine, chided "lazy flacks" who deluge him with news releases "because they can't be bothered to find out who on my staff, if anyone, might actually be interested in what they're pitching." [...]

After picking the fight, he then made it personal, posting the addresses of 329 unsolicited e-mail messages he had received and telling the senders that he had permanently blocked them. [...]

Roy Peter Clark, vice president of the Poynter Institute for Media Studies, said that the hostilities Mr. Anderson had stirred up were less about technology than about territory.

"I grew up in this business 30 years ago learning that flacks were your enemies, with an asterisk," Mr. Clark said. "The asterisk was unless you really needed them, when you were on a tough deadline and couldn't get around them or through them."

There has long been a "love-hate relationship" between the two professions, said Sheldon Rampton, co-author of "Toxic Sludge Is Good For You! Lies, Damn Lies and the Public Relations Industry" and research director of PR Watch, a publication that reports on dubious public relations practices. "In a lot of ways P.R. people do the legwork for journalists — feeding them stories and sources, and doing research," Mr. Rampton said.
I wonder: what fraction of mass-media stories about science or technology are initiated, directly or indirectly, by a press release or by an email or phone call from a publicist? It's surely a large proportion, and I wouldn't be surprised to learn that it's within hailing distance of 100%.
It's worth pointing out that the flack/hack symbiosis also leads to absurdly over-hyped stories even in cases where there is no immediate commercial motivation, but a University or scientific-society publicist has done a good job at getting media interest for an evocative piece of research or development, and ignorant or self-interested journalists run with it. Again, it's easy to find examples every week of the year: here's one, dissected in detail: "Envy, navy, whatever", 10/27/2006.
It's not obvious what would be a better system. But readers should understand that the flacks have one set of motivations, and the hacks have another, and that truth doesn't rank very high in either set.
[Note: I recognize that access to the NYT Op-Ed page is a somewhat special case, and a chain of personal connections between FKF and the paper, perhaps involving some political operatives, may have been involved here. But the basic dynamic is the same: someone wants coverage, someone else need material.]
Posted by Mark Liberman at November 23, 2007 12:04 PM