Munroe's Law
At xkcd, a graphical sketch of the classical psychodynamics of pet communication: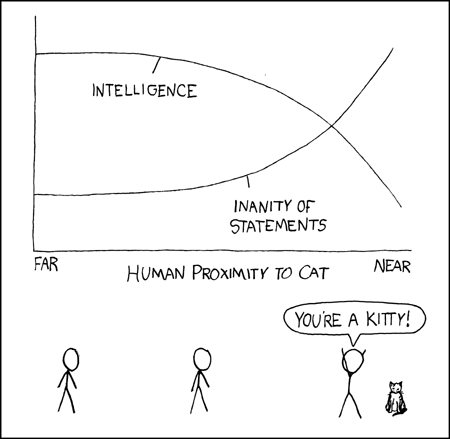 Through failures and successes, science marches on.
Though there's no connection except common authorship, this might be a good place to link to Randall Monroe's "Washington's Farewell Address Translated into Everyday Speech". Here's how Randall explains himself:
I've often heard that Washington's 'Farewell Address' — the speech he sent out (in written form) to a bunch of papers at the end of his second term — is important. Apparently he lays down a lot of good ideas for America. But the common style of writing and vocabulary has changed since then. Maybe people have gotten dumber, too. Either way, the result is that it's kind of a pain to read sometimes. Particularly tricky are the odd compound sentence structures, where it's hard to keep track of what the subject is.
I'll note at this point that I once sketched a quantitative analysis of changes in sentence and paragraph length ("Complexity", 9/7/2005), and depth of embedding ("Inaugural embedding", 9/9/2005), across the inaugural addresses of U.S. presidents.
Here's Washington's first sentence and Randall's translation:
The period for a new election of a citizen, to administer the executive government of the United States, being not far distant, and the time actually arrived, when your thoughts must be employed designating the person, who is to be clothed with that important trust, it appears to me proper, especially as it may conduce to a more distinct expression of the public voice, that I should now apprize you of the resolution I have formed, to decline being considered among the number of those out of whom a choice is to be made.

Elections are coming up, and it's time to figure out who we wanna give the keys to. I figure it might clear things up if I take a sec to explain why I'm not running.
It's worth following the whole translation, paragraph by paragraph, from Washington's original. As Randall says, it's "fun, depressing, inspiring, and a little bit spooky". The comments too.
Posted by Mark Liberman at March 6, 2007 09:29 AM