With a free colorless green idea in every box!
Yesterday I called for a linguistic response to Ruben Bolling's fantasy of Kellogg's "new marketing campaign ... with mascots we are CERTAIN will not appeal to any kids". This morning's mail brings the first answer, from Sam Young on behalf of Post cereals (unsolicited by Kraft Foods, I hasten to add):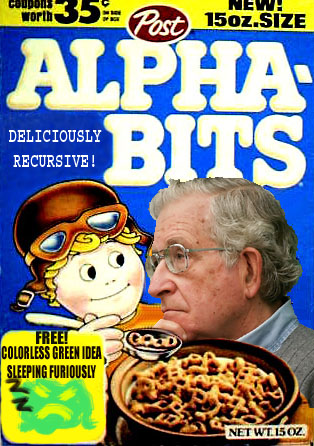 This is an inspired pairing, in my opinion. But we still need a storyboard for the TV spot.
And of course there are many other linguists, and many other cereals.
[Update -- This cereal mascot (from last year) is not a linguist, but it shows that the meme has legs...
And there's a TV ad, too!]
Posted by Mark Liberman at July 16, 2007 07:31 AM